All Are Welcome
We don't just say it. We live it.
We, the people of God at St. Patrick Catholic Church, are a welcoming Christ-centered community committed to keeping alive the vision and hope of Vatican II. Our Sunday liturgy, enhanced by the creative arts, strengthens us for the work of peace and justice in the world and challenges us to live in communion with one another and all of creation.
______________________________________________
REGISTER FOR MASS (CLICK HERE)

"The Lord is my shepherd; there is nothing I shall want" - Psalm 23
On behalf of the Josephinum Residents, THANK YOU, to all for baking and donating desserts for their early Thanksgiving Meal on Thursday, November 19th. This low income community is co-located with Christ Our Hope Church. Residents there are very thankful for your kindness!
Dear Friends in Christ,
This weekend we commemorate the final Sunday of our liturgical year as we celebrate the solemnity of Our Lord Jesus Christ, King of the Universe. While that title may sound like the theme of a super hero movie, Matthew's Gospel has Jesus presenting one of his most powerful, and some theologians say his most important, message for us all: "For I was hungry and you gave me food, I was thirsty and you gave me drink, a stranger and you welcomed me, naked and you clothed me, ill and you cared for me, in prison and you visited me... Amen I say to you, whatever you did for the least of these brothers (and sisters) of mine, you did for me."
This weekend, we will announce a new initiative to put this mighty teaching into regular practice in our two parish communities at Christ Our Hope and St. Patrick. I look forward to sharing the good news with you then. Stay tuned.
Peace...
Deacon Dennis Kelly
Pastoral Coordinator
Christ Our Hope / St. Patrick Parish Communities
For a link to our annual report, CLICK HERE.
_____________________________________________
Paula Frial - RIP
Our beloved Paula Frial passed away earlier this week. As part of her family's Filipino heritage, her children, family and friends around the world are holding a nine day Novena for her. After that they will have a funeral for her at St. Patrick's. This will be for family only. However, the funeral will be on Facebook LIVE (details to come). Condolences to the family can be sent to the parish office. Thankfully, Fr. Bryan was able to anoint Paula one last time late last week. Eternal rest grant unto her, O Lord. And let perpetual light shine upon her. May she rest in peace and with her beloved Oscar always.
_____________________________________________
Poinsettias 2020
Advent starts on November 29th this year. With Christmas on its way, the Environment Committee members are focusing on decorating. Each year many of you generously donate money to buy beautiful poinsettias that help transform our sanctuary into the beautiful splendor of Christmas. Since many of you will not be present at masses, you will need to take the following steps to purchase the poinsettias:
Step #1 - Open the purchase form document HERE and way, the Environment Committee members are focusing on decorating. Each year many then print it. (There are two forms. If you only need on e, you may cut it in half.)
Step # 2 - Fill out the form, being sure to write a name of someone in honor of or in memory of.
Step #3 - Put the form in an envelope with a check or cash in the amount of $15.00 for each poinsettia.
Step #4 - Mail the envelope to: St Patrick Church, 2702 Broadway East, Seattle, WA 98102. If you are at mass in person you can put it into a basket on the table at the entry.
All forms and money need to be in by Sunday, December 13, so plan ahead!
_____________________________________________
Advent Festival
Save the date for the annual Advent Festival -- online this year -- on December 6th from 6-7 PM. This will be hosted by the St. Pat's teen youth group for the children of the parish. Thanks to Mickey for helping spearhead this important annual tradition.
_____________________________________________
Small Group Advent Journey Through the Gospels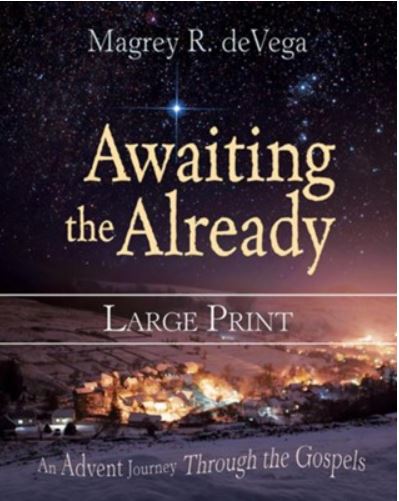 Spend time in community and prayer this Advent with our Advent reflection small groups. St. Pats and Christ Our Hope parishioners are invited to join the four week Advent reflection groups where we will use Magrey deVega's book Awaiting the Already: An Advent Journey Through the Gospels to examine the four Gospel Christmas stories and see how they lead us on the Advent journey of preparing for Christ's coming.
The groups will meet for the four weeks of Advent, beginning the week of November 30th. There will be a Tuesday evening small group from 6:30 PM - 7:30 PM and a Wednesday morning small group from 10:30 AM - 11:30 AM, both on Zoom. For more questions reach out to Deanna Tighe, dtighe@christourhopeseattle.org Kindly please consider giving a $7.00 donation to cover the cost of the book.
_____________________________________________
Parish Mission Discernment Synod UPDATE
Prepare the way of the Synod by completing this form (click here)!
The Synod leadership team thanks all parishioners who attended or emailed thoughts/concerns from our recent Parish Listening Session. As a follow up, we have created 12 potential workshops for our upcoming Synod on Sunday, November 29 from 2 PM - 5 PM.
Your input will help us prepare our Synod workshops over the coming weeks. Thank you!
_____________________________________________
Do you need help using Zoom?
We are offering Zoom training sessions prior to the Synod on Sunday, November 29th. If you are new to Zoom, and do *not* know the basics, we will be hosting two phone training sessions on Monday, November 16th at 9 AM and, again on November, 23rd at 9 AM.
If you know the basics of Zoom but want to learn a bit more, you are welcome to join an intermediate Zoom session which will be held at 9 AM on Wednesday's and Friday's November 20, 25, and 27.
During the phone sessions we will get to understand your training needs, and ensure you get the help you need to set up a Zoom account and cover the basics that you will need for the Synod gatherings.
Also, as time allows we will cover: the advantages of having a Zoom account, ways to host and join meetings, joining by phone, tablet, or computer, various options for viewing the meeting, muting and unmuting your audio, how to join a breakout session, how to answer polling questions, how to chat with others during the meeting, how to send reactions or "raise your hand", and how to share your screen.
To register for one of these sessions please send an email to Sandi Tennyson at sandiandbrian@msn.com
______________________________________________
Special Holiday Mass Times
Mark your calendars:
Thanksgiving Mass: Nov. 26, 9:00am
Feast of the Immaculate Conception: Tues. Dec. 8, 7:00pm
Christmas Eve: 5:00pm
Christmas Day: 11:00am
Mary, Mother of God: Jan. 1, 9:00am
All Masses will be broadcast on Facebook LIVE
______________________________________________
Called to Serve as Christ UPDATE
Here's an update on our parish's participation in the Called to Serve as Christ Campaign:
Campaign Goal: $423,466
# of Gifts: 67
% of Families: 33%
Total Pledged: $157,400
% of Goal: 37%
Parish Share to be donated to Women Religious Orders:
$23,610
Thank you to all who have donated to this worthy campaign. This money will ensure a secure retirement and healthcare for our women religious and our priests.
_____________________________________________
Note: Temporary Suspension of Movie Night
Thank you to all who attend our weekly Wednesday Movie Night. We have decided to temporarily suspend movie viewing over the next few weeks to free up time for people who wish to participate in the Open Wide Our Hearts and/or Building Bridges Series. We will reinstate Wednesday Movie Night in late October. Thank you!
Paul Sampson (pdsampson@comcast.net)
_____________________________________________
Sunday Mass ONLINE
Sundays 10:30am
* As an alternative to Facebook, you NOW can also attend Mass by joining the Hospitality Zoom meeting here. Join at 10:30 AM for Mass and then enjoy Hospitality immediately following Mass
(American Sign Language Interpreted)
(Please know all YouTube Masses are posted within 24 Hours)
______________________________________________
Zoom Offerings
The Parish has moved to a virtual platform for parish gatherings. Using Zoom Video Conferencing, we are able to connect and stay in communion with one another.
______________________________________________
Sunday Coffee Hour (Hosted by Betsey Beckman & Co.)
On Sunday morning immediately following Facebook LIVE Mass, please join Betsey Beckman and others for Sunday Coffee Hour immediately following Mass ONLINE. Since we are unable to gather in person after Mass, we can gather as a community on Zoom. Contact Betsey for link or see the Parish Private Facebook group for details or get the link on the parish wide email.
______________________________________________
Breaking Open The Word
Join us for this weekly bible study on Wednesdays at 4:00 PM to study the readings for the upcoming Sunday. Led by Dr. David Ard, a 30 year Theology professor and Ruth Ard, a 25 year Religious Education minister. Contact Deanna (dtighe@christourhopeseattle.org) or the parish private FB group for link or get the link on the parish wide email.
______________________________________________
Encountering God
This is a thirty minute women's reflection group led by Lisa Dennison and Deanna Tighe. Join us for a break in your day, reflecting on where you are finding God's life-giving love in your life today. The group will meet at 11:00 AM on Thursdays. Contact Deanna (dtighe@christourhopeseattle.org) or the parish private FB group for link or get the link on the parish wide email.
______________________________________________
Coffee & Conversation w/Dcn. Dennis & Fr. Bryan
Join our pastoral leaders for a weekly chat and cup of coffee at 9:30 AM every Wednesday along with our sister parish. This is a great chance to learn more about each other and grow in relationship. Please contact Deacon Dennis or the parish private FB group for link or get the link on the parish wide email.
______________________________________________
Thursday Bible Study
| | |
| --- | --- |
| Every Thursday evening, a weekly gathering of St. Patrick parishioners studies the meaning of scriptural texts in their own lives. The group draws on scholars' biblical interpretations, papal teachings and textual footnotes. But the main focus is on personal responses to scriptural passages and how they relate to our lives today. If you'd like more information about joining this discussion on Zoom, please email Dennis Ortblad. | |
______________________________________________
Here are some quick tips for using Zoom:
(For PC/Mac):
1. Go to https://zoom.us/support/download and install the Zoom app for Mac or PC.
(For iPhone/Android):
1. Download "ZOOM Cloud Meetings" (also known as "zoom.us") from your respective app store.
2. Note that you *shouldn't* need to sign in or create an account.
After you have downloaded the App:
1. Click this LINK to join.
2. Open the Zoom app that you have installed, and choose "Join a Meeting."
3. Enter the meeting details from the email you received from me, and enter your name.
4. Choose "Join."
Other tips for using Zoom:
It is significantly easier to use on your phone - just click on the link in your email and it will prompt you to download the app if you haven't already, and your video and audio are up and running.

Easier to hear with headphones

When Zoom asks for your name, use your whole name, not the default of your email address. It shows up on the screen and helps create community.

If you choose to do it on your computer, plug in headphones, or don't use the computer audio and instead dial from your cellphone. Many computers have very poor microphones and speakers. Also, many computers don't have built in webcams so you may only be able to participate via audio.

Learn how to MUTE your audio when not talking (look for the microphone icon on the interface and click on it) if there is a lot of noise in your home (barking dog, etc.). This will allow people to hear.
______________________________________________
We look forward to you joining our parish community ONLINE for Facebook LIVE Mass at our regular time for Sunday Mass at 10:30 AM
To watch a streaming video feed on St. Patrick's private page:
(LIVE at 10:30 AM on Sunday)
1) Sign in to Facebook (https://www.facebook.com)
2) Navigate to St. Pat's page at https://www.facebook.com/groups/stpatrickseattle/
3) Scroll down the page until you see "St. Patrick Catholic Church, Seattle is LIVE"."
4) Click on the video you see playing to expand it larger. Video defaults to mute and you will not be hearing it yet.
5) Use the speaker volume symbol on the bottom right of the video to unmute the video. Click once to unmute. Click and drag the toggle up and down to adjust the volume. If the video still has no sound please check your computer's audio settings and make sure your computer isn't muted or low volume.
6) You are welcome to add a comment to the video, especially if prompted by Fr. Bryan or Dn. Dennis - it will work just like any other Facebook comment does and it will not disrupt the Mass in progress.
7) If you miss the live feed, you will find a version you can watch at anytime.
(8) If you are a member of Facebook, but do not have access to St. Pat's private group, please send an email to Sharie Bowman (sharie.bowman@gmail.com) for access.
If you are not a member of Facebook, you may want to create a temporary account during this time in order to join us ONLINE for Mass.
PASTORAL EMERGENCY CONTACT NUMBER: 425.710.0909 OR EMAIL: dennis@stpatrickseattle.org